Through rigorous measurement, third-party accountability and external expertise our clients achieve a 53% increase in turnover year-on-year.
Measurement
Measuring business performance is fundamental to accelerating growth.
We continuously measure our clients' business performance. We measure key performance indicators, such as the number of leads a business is generating, sales conversion rates, and customer feedback scores. We measure financials, including revenue, fixed costs, variable costs, gross profit, net profit, margins and cashflow. We also measure non-financial performance improvements by re-running our growth health check exercise once a quarter.
All of the data we gather is displayed in our client portal using a range of interactive graphs showing monthly, quarterly and 12 month rolling data. We also benchmark our clients' performance against all other clients, non-client data, and data for the UK as a whole, e.g. GDP growth.
Rigorous measurement allows us to learn from historic performance, for example what has worked well in the past, and where challenges have arisen. Working forwards, measurement allows us to set targets and see how well your business is performing from one month to the next. Where targets are met our clients feel motivated and successful. Where targets are missed, we can analyse why, and take action to improve performance next month.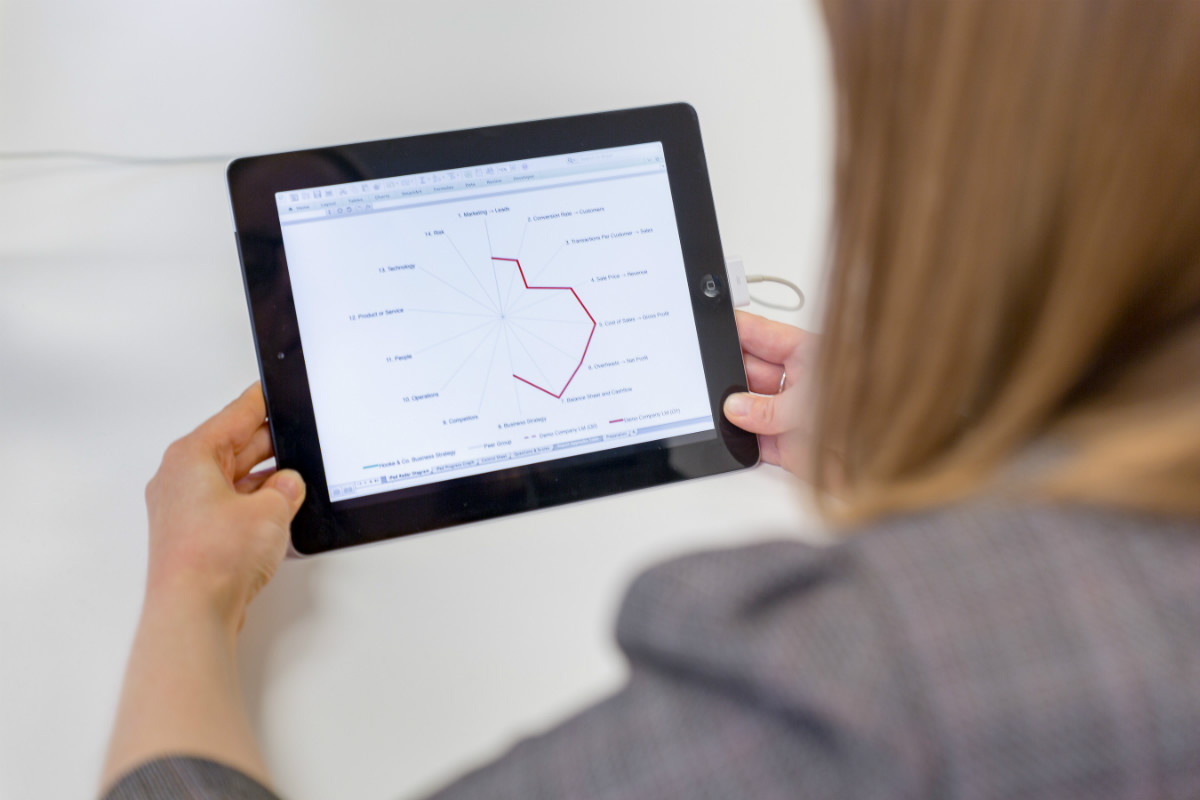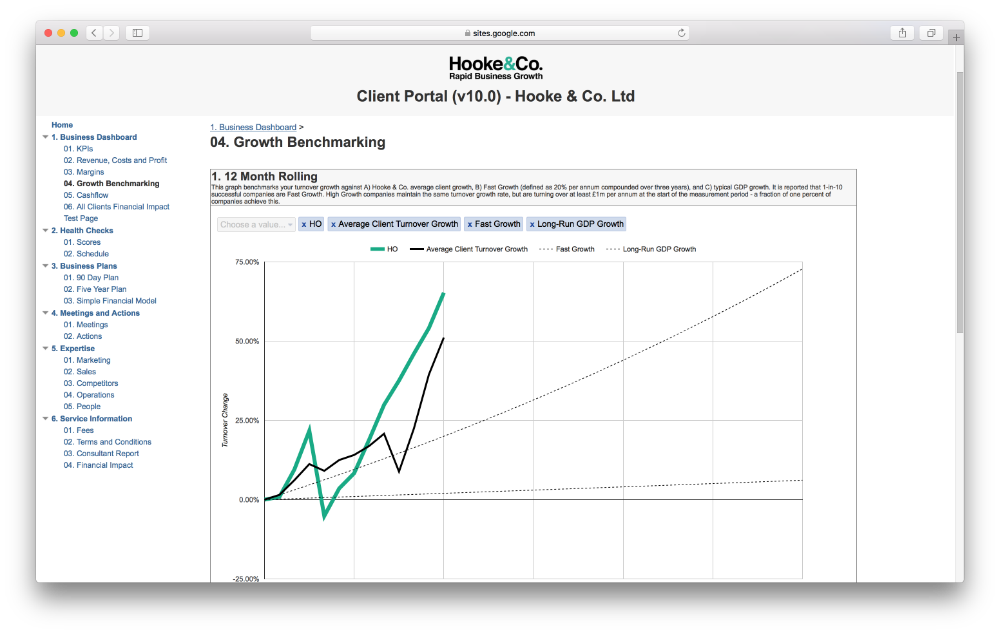 Accountability
Regular face-to-face meetings and phone calls are key to progress.
We run two scheduled meetings with our clients each month – a face-to-face meeting, and a mid-month phone call.
The face-to-face meeting is typically held at the client's premises or a mutually convenient location. The agenda includes a review of plans, key performance indicators, financial data, a quarterly health check (if scheduled), discussion on any areas of interest (e.g. new systems, competitor research, etc), review of previous actions, review of hours worked, and any other business. New targets are set and actions recorded for the month ahead.
The mid-month call is used to check progress of actions, agree next steps, discuss any new matters that have arisen and quickly check latest key performance indicator and financial data.
We also maintain two simple gantt chart plans – one for the next 90 days, and one for the next five years. We hold our clients to account against these plans each month. We ensure that key growth activities are starting and finishing in accordance with the plan, e.g. hiring a new member of staff, or commencing a new project.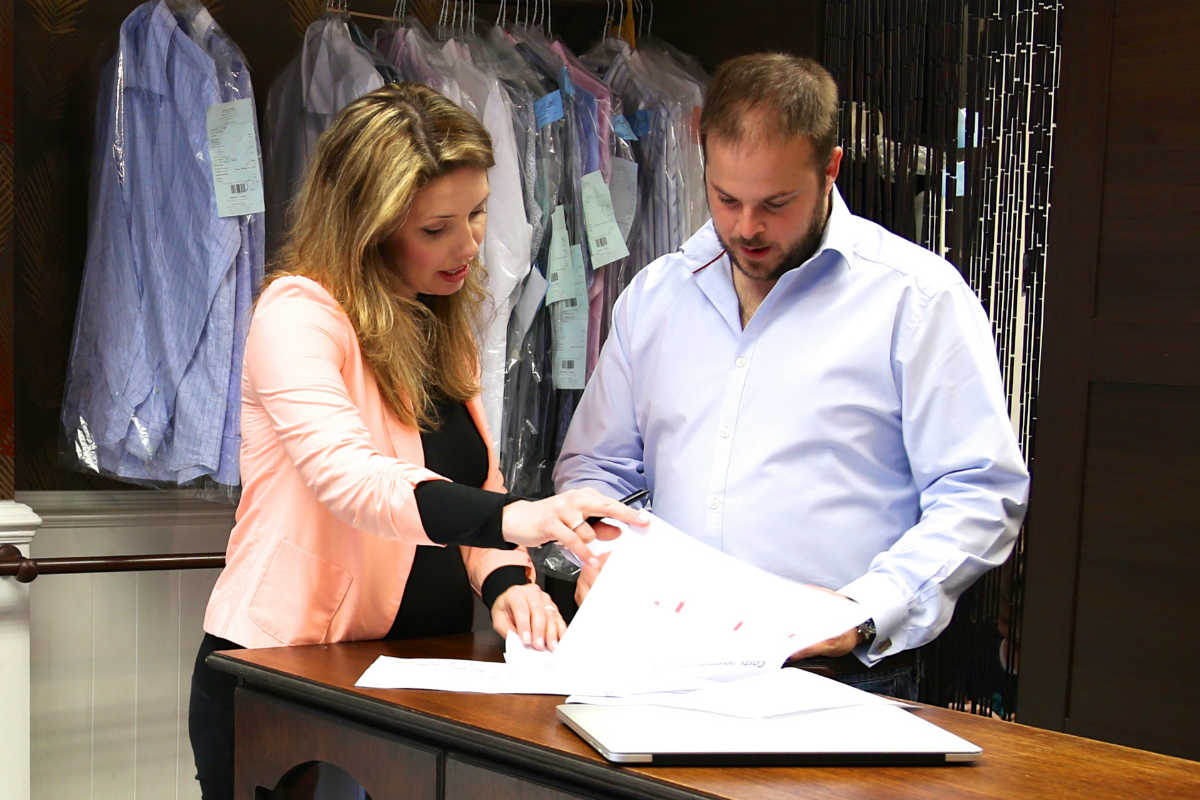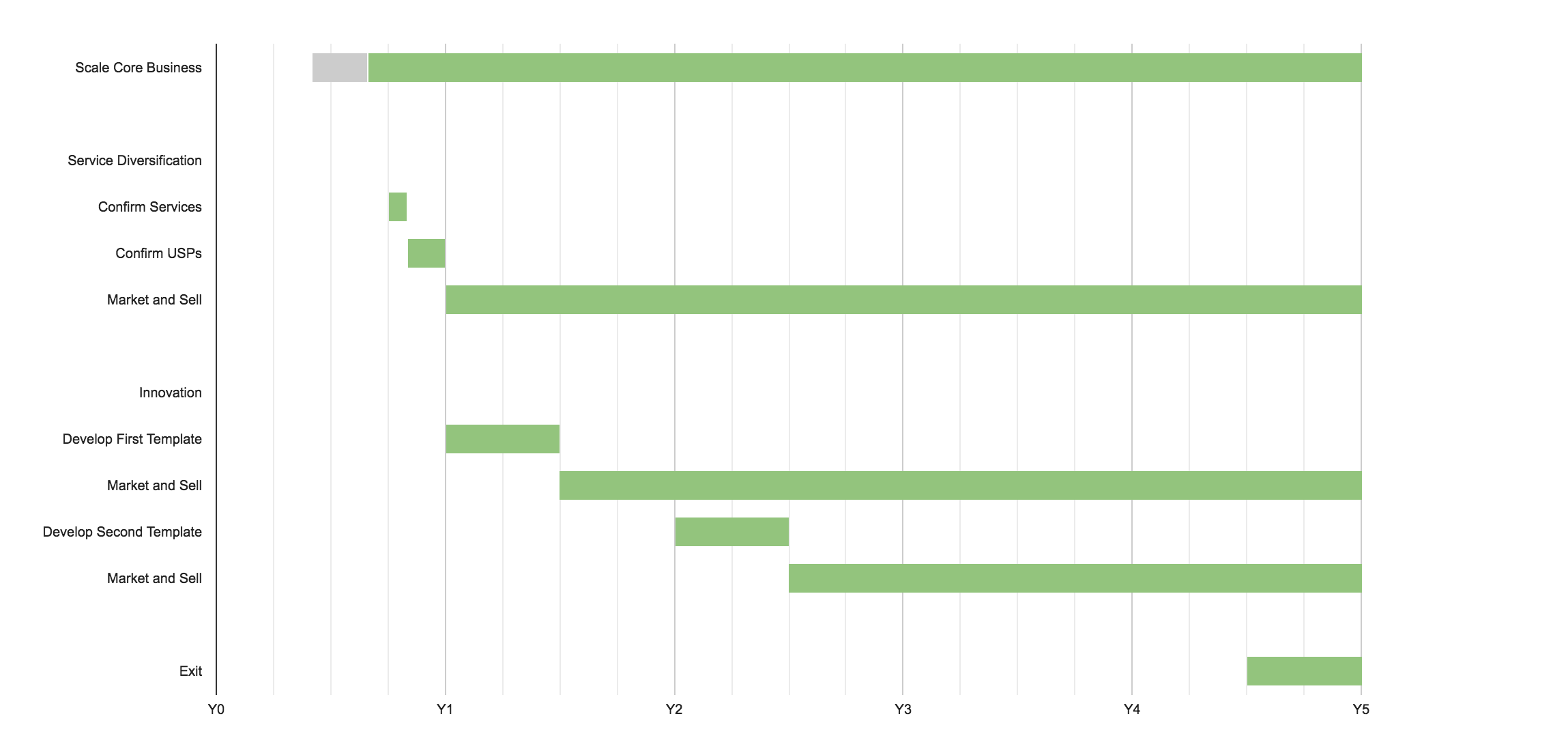 Expertise
We help to implement best practices in 14 areas of your business.
Each month we take actions to help deliver improvements in your business. With this approach our clients make faster progress, than having to do everything themselves. Recent examples of expertise actions include:
Setting up a customer relationship management system.
Setting up a cloud-based accounting system.
Direct Debit payment collection system implementation.
Competitor research, buyer profiling and pricing analysis.
Transition from sole trading to limited company.
Basic financial expertise – VAT, payroll, dividends, auto enrolment, director loans, cashflow projections, etc.
Building customer feedback tools using Google Forms.
Introductions to business contacts, e.g. bank relationship managers, marketing firms, virtual assistants, solicitors, etc.
Business efficiency and staff utilisation analysis.
Support with hiring new members of staff.
We can see best practices across lots of different businesses, and bring this knowledge to bear in the advice we give and the actions we propose and deliver.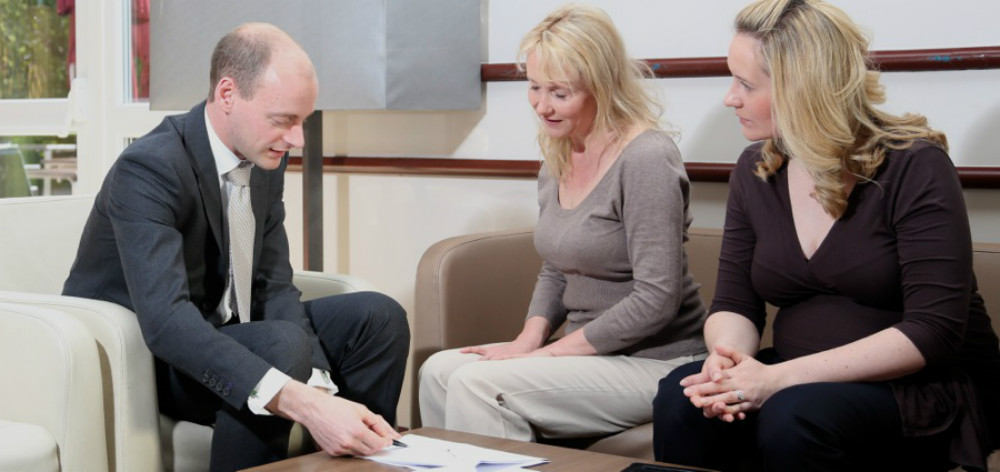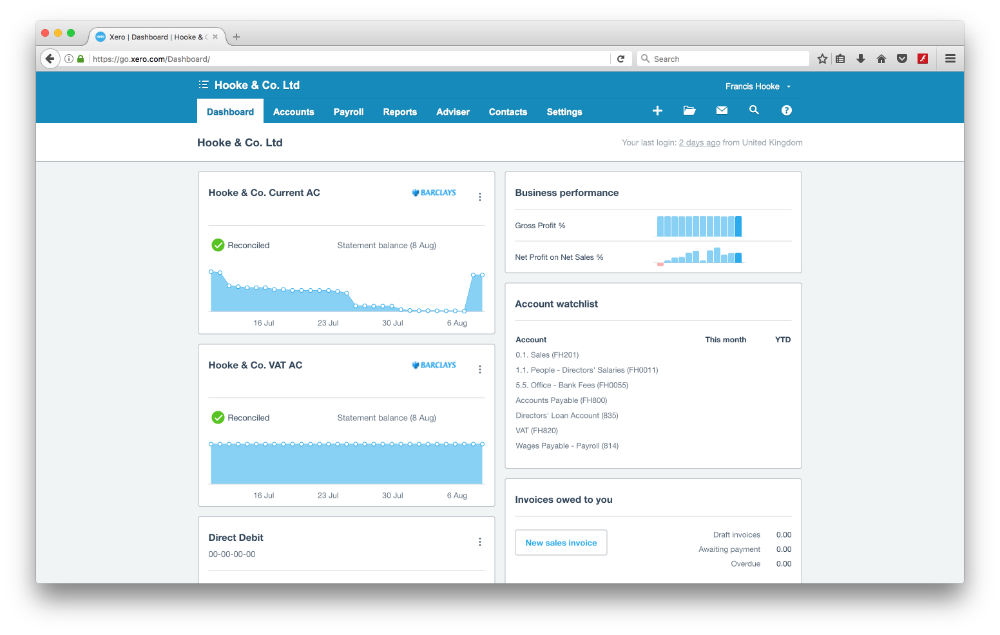 Results
On average our clients achieve a 53% increase in turnover year-on-year.
We measure financial and non-financial client performance. On the financial measures, clients achieve a 64% turnover increase, calculated on a rolling 12-month basis. Non-financial performance improvement covers things like obtaining customer feedback and improved risk management. Year-on-year, on average, our clients achieve a 29% improvement in non-financial performance. The following graphs illustrate this performance over time.
Client Portal
Our clients have access to a private, secure and personalised portal.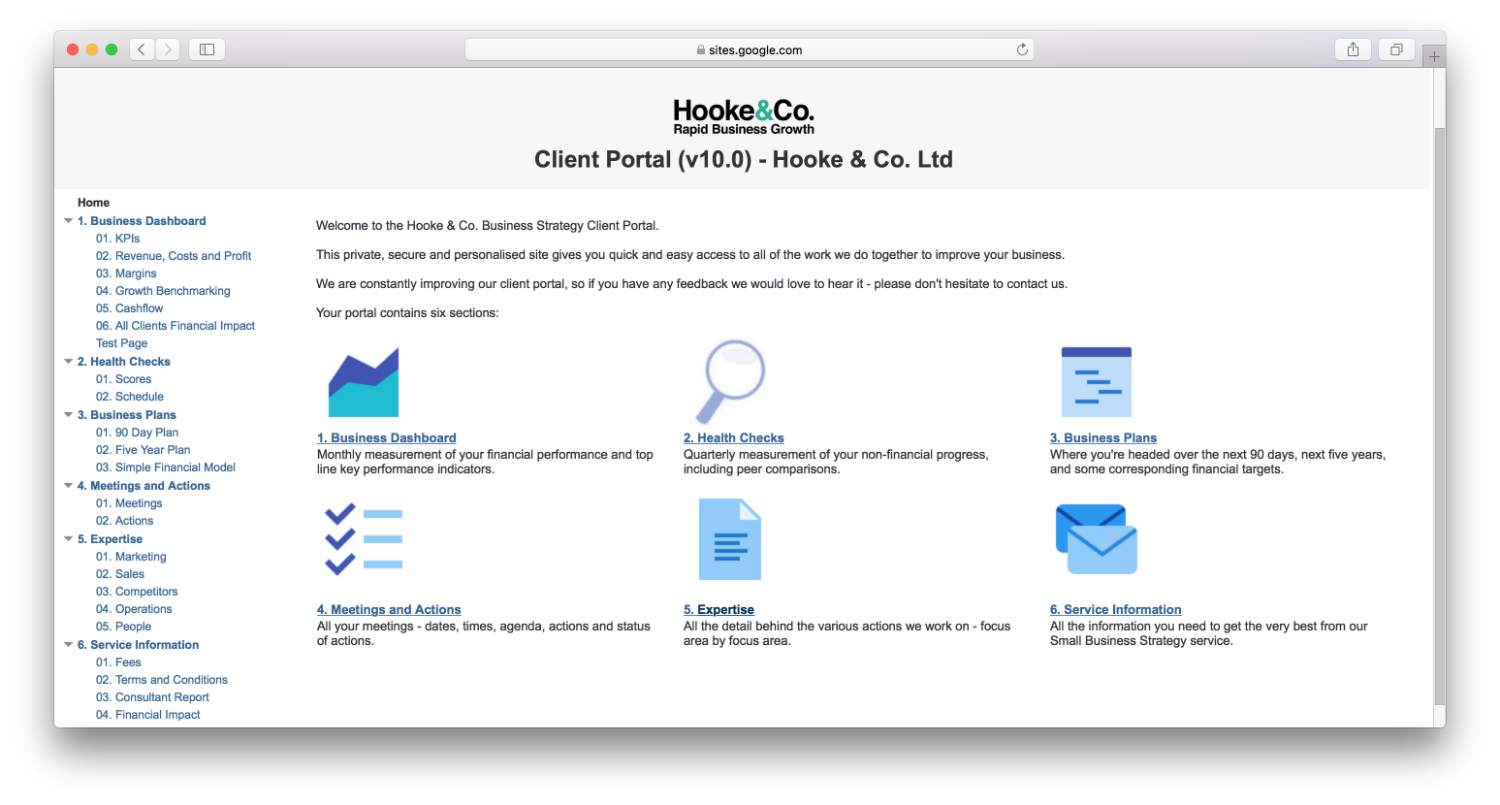 Our pricing structure and guaranteed minimum hours reflect the fact that larger businesses tend to be more complex than smaller businesses, and therefore more work is needed to accelerate growth. Clients can choose whether the service is delivered face-to-face or via telephone, Skype, Facetime, etc. If face-to-face is selected then travel costs are payable at £0.45/mile from our bases in Hertfordshire. Travel time is ignored from the guaranteed minimum time commitment – you will receive the same amount of consultancy time, regardless of your location and how much time we spend travelling to meet you.
If you want to rapidly accelerate your business growth, then working with us is a simple three-step process:
1. Free Growth Health Check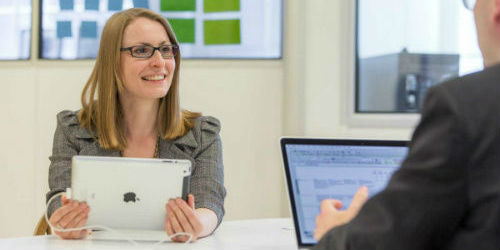 With some amazing visuals and the latest technology, we will show you how to grow your business as rapidly as possible.
2. Rapid Business Growth Taster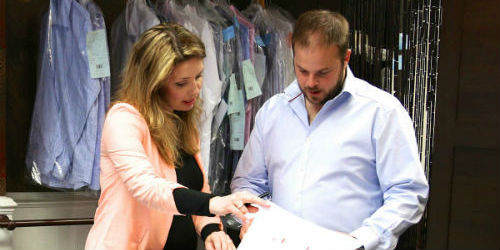 After your Free Growth Health Check, give our Rapid Business Growth Service a try for one month with a 25% discount.
3. Rapid Business Growth Service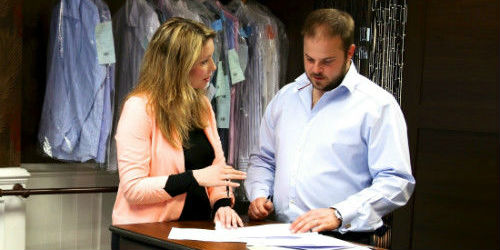 If you have any questions about our Rapid Business Growth Service, or want to book a Free Growth Health Check then contact us.